What is a Platform Free Trial?
Platform Free Trial (PFT) allows Trial Accounts to use a US Local Number (10DLC) to send messaging within the US without the need to register while you evaluate our business SMS platform.
Registration of your brand, campaigns, and phone numbers is mandatory for all Application-to-Person (A2P) traffic for 10DLC to US phone numbers with The Campaign Registry.
Overview
Dedicated numbers provided to Sakari Trial Accounts based in the US will automatically be configured with US Local Phone Number (10DLC) enrolled in a Platform Free Trial (PFT) campaign.
During this trial period, the only costs involved are the standard message fees, which will be deducted from your Free Trial credit balance.
If you are sending messaging exclusively outside of the US or are not using a US/Canada outbound number, this FAQ does not pertain to you.
What are the Limitations?
While PFT allows you to send messages, there are certain limitations:
Messages can only be sent to contacts who have opted-in specifically for the PFT
There is a limit of 10 opted-in contacts for your PFT

If there are more than 10 attempted opt-ins, only the first 10 will be eligible to receive messages from your number while on the PFT

There is a limit of around 600 messages per day
All messages will be prefixed/watermarked with the following text: [Sakari Trial Msg]
How Do I Send Messages On a Trial?
All messages sent while on a US Trial must be to a manually opted in contact (restricted to the first 10 opted-in phone numbers), even if you have previously collected an opt-in outside of Sakari.
How to Opt-in A Number
During PFT, your opt-in must be collected via text to the number configured on your Sakari account.

To collect this opt-in:
You can Email Instructions to forward to your recipients
Download QR Code to distribute
Tell the intended contacts to Text "Start" to your configured number
The popup below will be access in your account for the duration of your trial from the Learn More link in the banner on your account.
Note: Each QR code is unique to your account. Make sure you obtain your QR code from within your Sakari account for opt-in.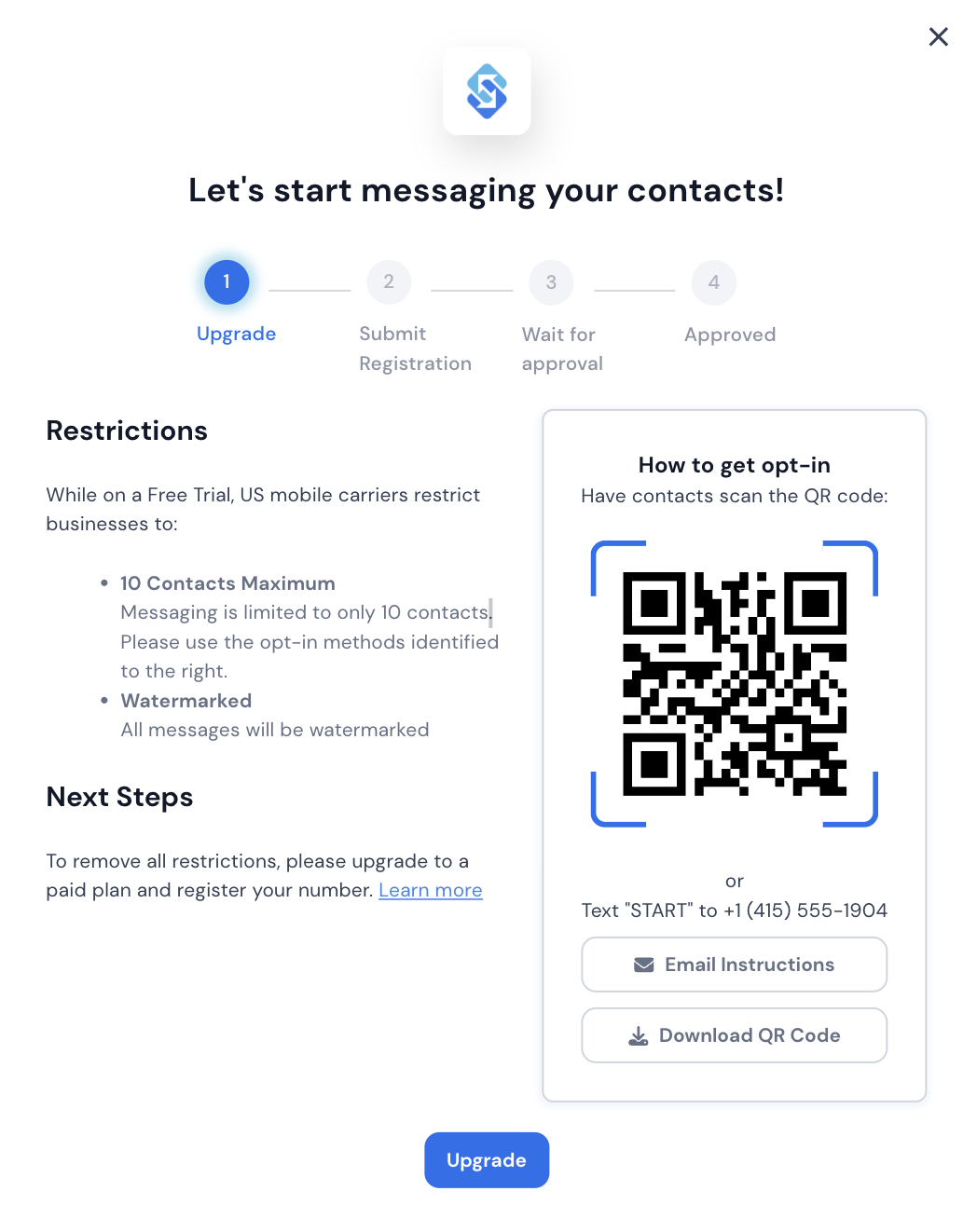 Once each contact has opted in, you will be able to send messages to that number.
The first 10 contacts that have opted-in will be eligible to receive messages during your Trial will have a blue checkmark displayed next to their number in Contacts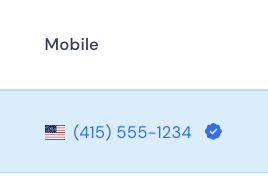 How Do I Remove the PFT Limitations?
To remove the PFT limitations, accounts must complete the following steps:
Upgrade to a paid Sakari account
Register Brand and Campaign with The Campaign Registry

Brand Registration is $4 per submission
Campaigns have a $15 charge per Campaign submission and $30/quarter campaign fee (initial charge $45)

Wait for Brand and Campaign approval
How do I Register my Brand and Campaign?
For more information on registering your brand and campaign with The Campaign Registry, please refer to: Registering Brands for 10DLC.
Registration approval is generally completed within 5 Business days.
I've Upgraded and Registered, Why Am I Still Restricted?
Even after submission your Brand and Campaign registration, your Brand and Campaigns must still be approved.
While your PFT enrolled number is pending approval, you will see a banner noting such, even with a paid Sakari plan:

While pending, you can continue to send messages with the PFT restrictions. Once approved, your campaign will automatically update and the restrictions will be lifted.
I bought another 10DLC number, but can't send messages from it
Only the initial number configured with a Sakari Trial will be enrolled in a PFT campaign. Any additional numbers, or any 10DLC numbers purchased must be added to an approved Campaign before they can be used.
If you have already submitted registration for your Brand and Campaign, you can wait for that approval and add any additional numbers to it once approved.
Please note, each Brand ($4) and Campaign ($15) submission will be subject to the submission fee, even if a duplicate. If you are unsure about anything, please contact our support team.
Internal Note: Sakari PFT Campaign ID: C6ALDIQ