Not seeing the Sakari "Send SMS" button on the HubSpot contact record? Here are some things to check.
Overview
Hidden or Missing?
After setting up the Sakari integration with HubSpot, each contact record will have a new Sakari module on the right sidebar. If you don't see the Sakari SMS module please first determine if the Sakari module is hidden (usually buried in the lower right) or the module is visible but there is no "Send SMS" button.
In this article we will provide suggestions for each.
Sakari Module Hidden

Sakari "Send SMS" Button Missing

Sakari "Send SMS" Button Active

Hidden Sakari Module
When you don't see the Sakari section on the HubSpot contact record after setting up the HubSpot integration, it's likely just hidden in the lower right sidebar.
Go to a HubSpot contact record and scroll all the way down. Expand the module open and drag it up to your preferred location.
Drag and Expand Hidden Module [Video]
Sakari "Send SMS" Button Missing
If you see the Sakari module on the HubSpot contact record but the "Send SMS" button is missing, there are a few things to check.
Step 1 - Check for Duplicates
Check to see if you have duplicate contacts in HubSpot with the same Phone Number / Mobile Phone Number (depending on what your integration settings are - see step 3 below).
If there are duplicate contacts with the same number, only one will have a "Send SMS" button.

Step 2 - Check your Phone Number
Confirm the contact in HubSpot has either a Phone number or Mobile phone number created for the contact.
The phone number populated needs to match what has been setup with your Sakari HubSpot integration settings.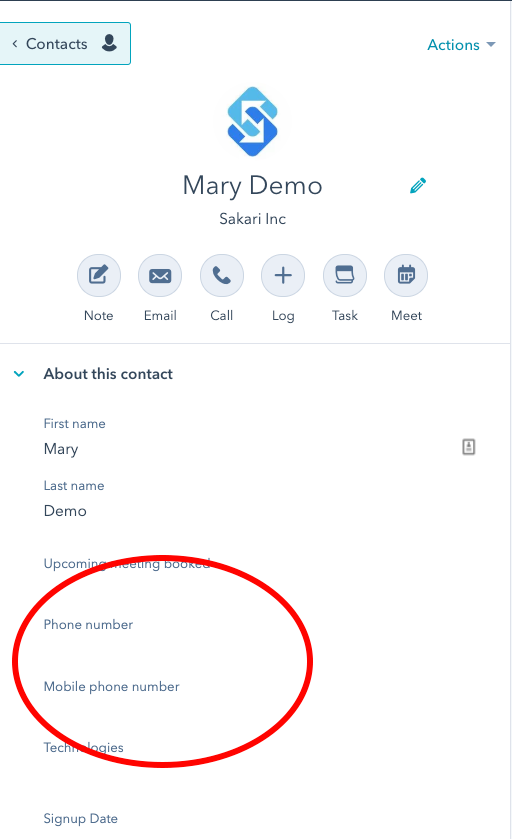 Step 3 - Check Phone Mappings
Confirm what field is configured as your Mobile Phone Property in Sakari for your HubSpot integration.

During the HubSpot integration setup, you can select if you prefer the Phone Number or Mobile Phone Number or a cascade of both fields as the mapped field.
If the contact does not have a phone number that aligns with your integration settings, no button will appear.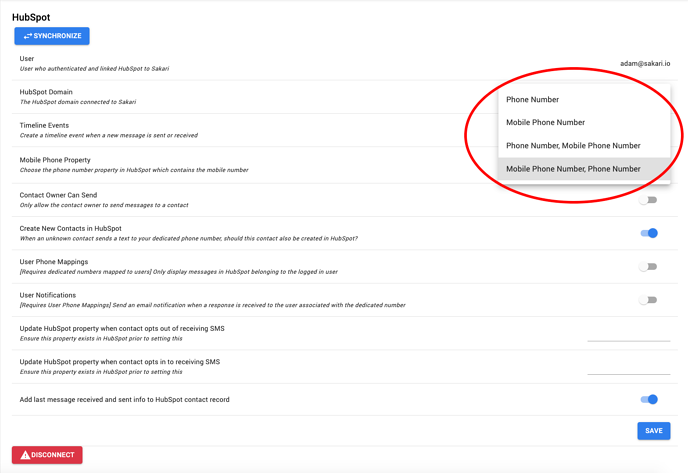 Step 4 - Check User Phone Mappings/User Notifications
User Phone Mappings and User Notifications require additional account configuration by the Sakari team. Unless this has been completed for your account, these values need should be turned off.