Note:
the two-way text messaging conversation feature requires a dedicated Sakari phone number for your account. Please
contact us
to set that up for your account.

How to setup the Intercom integration
1. Log in to your Sakari account at https://hub.sakari.io
2. In the left navigation go to Integrations > Intercom
3. Click the red Connect button.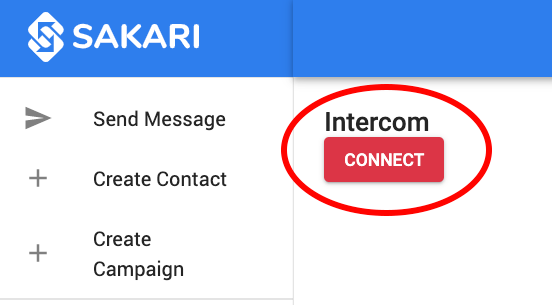 4. Confirm the integration between Intercom and Sakari SMS. Click the green Authorize Access button.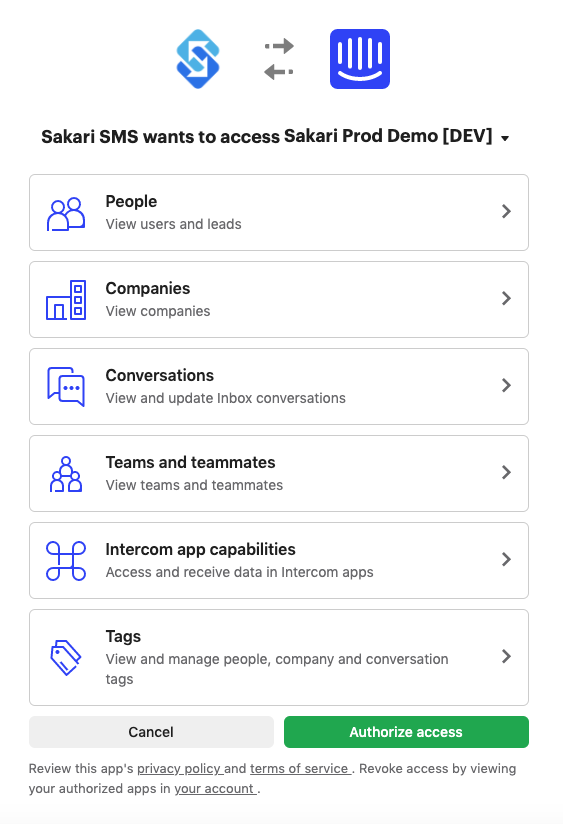 5. Now we're ready to configure the integration.
Mobile Phone Numbers of Users to send notifications to - The numbers that should receive the text message. These should be in the E.164 format and multiple numbers should be comma delimited. For example: +14151234567,+441708869933
Send SMS when user replies - This will toggle on if you want to receive a text message when a reply chat is received (a chat message beyond the initial chat)
Minimum delay before sending next SMS notification - this will define how frequently you'll receive a text message notification. Selecting "Send after 10 minutes" will trigger a new text message if a reply is received after a 10 minute period of no chat activity.
Create conversations in Intercom on inbound SMS - this will allow your Intercom contacts to send a text message to your Sakari dedicated phone number. This will then create an Intercom conversation in your Inbox. When you reply, it will be received as a text message to your contact.
Auto-Assign admin to conversation - when enabled, when a conversation is started in Intercom, it will be auto-assigned to an admin.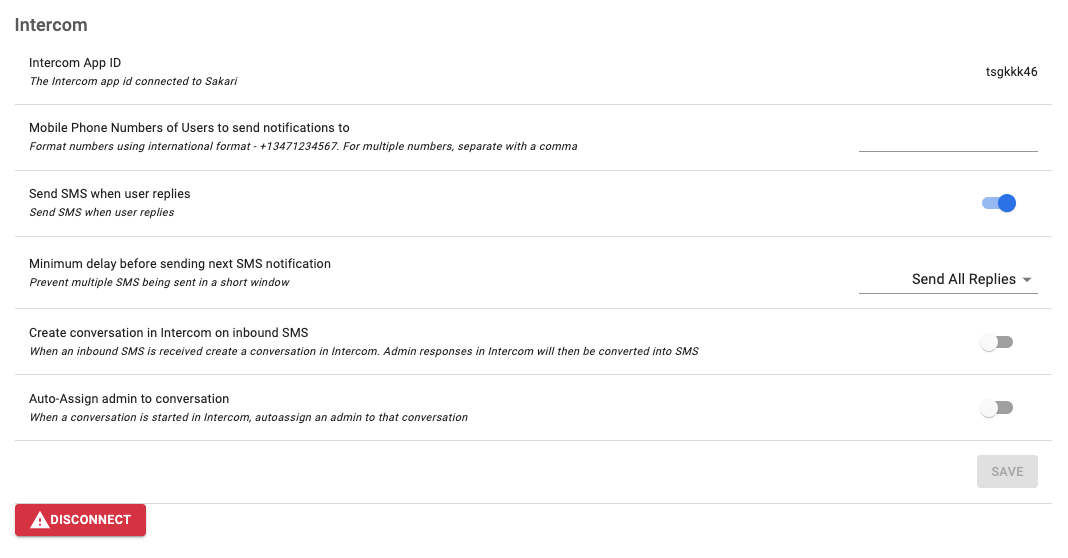 6. Click the blue Save button.
7. Now we need to display the Sakari widget in Intercom. Log in to your Intercom account.
8. In the Intercom Conversations inbox, click on the Customize button in the top right.
9. Click the Show More button.
10. Select the Sakari SMS option.
11. Click Done. The Sakari Send SMS module should be visible in your Intercom conversations inbox.