Overview
Sakari can enable automatic responses for your dedicated Sakari phone number and are configured by Group.
Using auto responders, anytime a text message is received that meets your conditional rules, a pre-formatted automatic response can be sent within seconds.
Auto-responders are a great way to let your contacts know you'll be in touch, or to automate the sending of personalized information.
Create and Manage Auto Responders
To create or manage your auto responders:
Click into Groups
Select the Auto Responders tab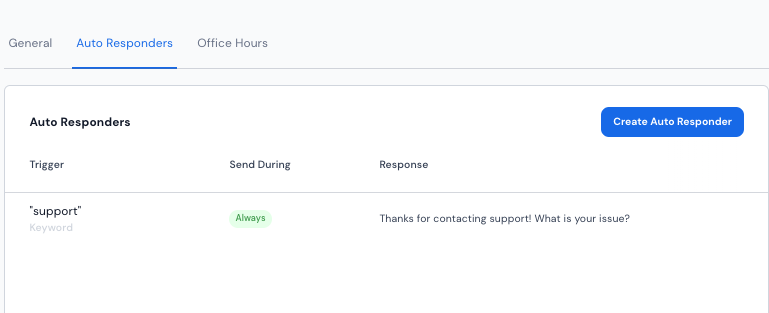 Triggers
Group Auto-Responders allow you to trigger a specific message based on either any incoming message or a specific keyword
Message
Craft a custom response for your auto responder or insert a template
Schedule
You can also choose a specific time/schedule for when this Auto-Responder can be triggered:
In office - Triggers during your Group's Office Hours only
Out of office - Triggers during non-Group Office Hours only
Always - Triggers for any incoming message at any time
Custom - A unique schedule can be created that ignores your Group's Office Hours
Groups - Auto Responder with Custom Hours:
Set Office Hours
When using the In office & and Out of office options in your Group Auto-Responder you'll first need to set-up your Group's Office Hours: