Current Timeframe
All submissions require a manual review process by the carriers to ensure that all campaigns meet carrier requirements. Currently, this review process is taking 3-5 business days for Non-Aircall numbers. Aircall numbers can take up to 20 days for verification.
What is 10DLC registration?
"10DLC" is short for 10 Digit Long Codes, commonly referred to as local phone numbers.
As of 2023, all businesses are required to register their Brand and define the types of Campaigns they will use when sending text messages using local phone numbers to United States customers.
What does this mean for my business?
In order to comply with these changes, Sakari customers will be required to do two things:
Register your brand. This will provide basic information on your business including address, website, vertical, etc.
Register your messaging campaign(s). This will describe how you will be messaging your contacts. You will be asked to describe your

use case, campaign description and provide sample messages for the campaign. Regardless of whether you send 1:1 messages or bulk messages, you must select a campaign type.
Please register both your brand and campaign using the link below but you should review our Campaign Best Practices here before you do:
10DLC registration can be completed directly from the Sender page in our latest update, Sakari Hub V2.
Note
After submitting your brand and campaign submission your information will be sent for review. Your submission may require further information prior to approval.
What are the fees/costs associated with these changes?
There are several fees that are passed on from the carriers to the business. These fees are passed-through from the carriers and are subject to change.
| Fee | Description |
| --- | --- |
| Brand Registration | $4, one-time fee |
| Campaign Verification Fee | $15 per verification attempt |
| Campaign Monthly Fee | $10/mo per campaign, paid quarterly |
| Carrier Per Message Fees | $0.002-0.005 per message; currently being paid by Sakari. |
| Additional Secondary Vetting (Optional) | $40, one-time fee (Optional). |
What are the campaign use cases?
Each brand will have to register its campaigns. You'll need to provide a campaign description and two sample messages per campaign. Below are the possible use cases for campaigns.
| Use Cases | Description |
| --- | --- |
| 2FA | Any authentication, verification, or one-time passcode |
| Account Notifications | Standard notifications for account holders, relating to and being about an account |
| Customer Care | All customer care interaction, including but not limited to account management and customer support |
| Delivery Notifications | Notification about the status of the delivery of a product or service |
| Fraud Alert Messaging | Notifications regarding potential fraudulent activity on a user's account |
| Higher Education | Messaging created on behalf of Colleges or Universities, including School Districts and education institutions |
| Marketing | Any communication that includes marketing and/or promotional content |
| Mixed | Any messaging campaign containing 2 to 5 standard uses cases |
| Polling and Voting | The sending of surveys and polling/voting campaigns for nonpolitical arenas |
| Public Service Announcement | Informational messaging to raise an audience's awareness about important issues |
| Security Alert | A notification that the security of a system, either software or hardware, has been compromised in some way and there is an action you need to take |
What if I don't send Campaigns, I just send 1:1 messages?
"Campaigns" are the general term used by carriers for the type of messaging sent. Regardless of whether you send 1:1, bulk or automated text messages, all businesses messaging to the United States on local phone numbers are required to register.
Are you a Direct brand or an Agency?
Carriers require Brand and Campaign registrations align the specific brand that messaging is being communicated about.
Direct Brand
Your company sends messages for your own products and services. For example, you are Shoe Company A and you send messages related to your products, order updates, etc.
In this case you need to register just your single parent Brand name.
Agency
Your company sends messages on behalf of another organization (typically a marketing agency).
In this case you need to register separate Brands and Campaign registrations for each of the Brands you work with.
I'm based out of Canada, do I need to register?
If you're messaging from a Canadian number only to Canada, you do not need to register. If you're messaging from Canadian number to the United States, you will need to register.
What happens if I don't register my brand?
It's not optional. As of 2023 all messaging to United States phone numbers from a local phone numbers requires 10DLC registration.
What if my Brand comes back Unverified?
An Unverified status means that the EIN/Tax ID that you previously submitted does not match your legal company name. You'll have to resubmit the correct information if you want to continue messaging. You may be charged again for the resubmission.
What is the campaign verification process and how long does it take?
In late January of 2023 carriers began adding a manual campaign review process to all campaigns. This is a manual review process by the carriers to ensure that all campaigns meet carrier requirements. Currently this review process is taking 5-10 business days.
The carriers charge a $15 fee each time a campaign is reviewed. For example, if your campaign is submitted and fails and requires a second review, your total cost is $30.
What is additional secondary vetting?
If you are a high-volume business and want to increase your throughput rates for messaging, you can go through an annual vetting process. Secondary vetting is an additional brand review done by carriers that allows for higher daily messaging limits and maximizes throughput per campaign.
This is optional and is an additional $40 fee. There is no guarantee that additional throughput will be granted, and the $40 fee is non-refundable.
To request secondary vetting, please email our support team at help@sakari.io
What opt-in information is needed?
Opt-in
Make sure the opt-in flow is thoroughly detailed.
Consumer consent should be collected by the direct (first) party sending the messages.
If Website opt-in: Screenshots of the web form where the client adds a number and agrees to receive messaging.
Website Posting (Support): Where is the number advertised and where does the customer find the number to text in.
If a keyword or QR Code Opt-in: Where does the customer find the keyword in order to opt-in to these messages? Please provide this material (photos or screenshots) for verification.
If Voice/IVR opt-in: In this case please provide a screenshot record of opt-in via voice in the client's database/ CRM. (i.e., a check box on their CRM saying that the customer opted in and the date)
2FA/OTP: Please provide a screenshot process to receive the initial text
Paper form (Customer/ Employee): please upload a photo of the form
Examples of opt-in: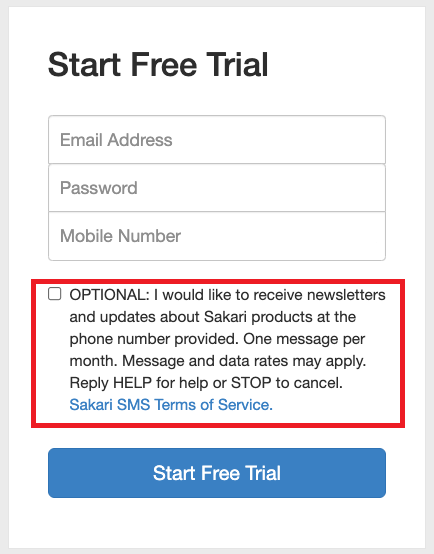 Please register both your brand and campaign from the Senders page
What are my alternative options?
Toll-free messaging is an alternative to messaging from a local phone number in the United States. Toll-free messaging does require a verification process, but there is no charge and it does not rely on the Brand and Campaign registration process.
There is no cost to switch to a Toll-Free number. If this is something you would like to add, please reach out to us at help@sakari.io to update your account to a Toll-Free phone number.
How can Sakari help?
Our team can work with you to help identify the best options for your organization. Reach out to us at help@sakari.io with any questions or to explore the option of getting a Toll-Free number.