When adding a Sakari Send SMS action to a HubSpot deal workflow a text message will be sent to all contacts associated with a deal record.
Setup
1. In HubSpot selection Automations > Workflows in the top navigation
2. Click the Create workflow button
3. Select a Deal-based workflow. Click Next.
4. Select your preferred trigger.
5. Click the "+" icon to add a new workflow action. Select the Sakari Send SMS action.
6. Configure the Send SMS action.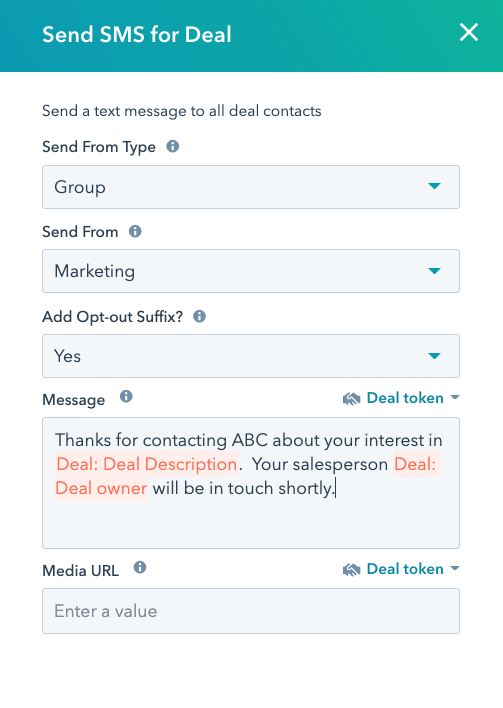 Send From and Send From Type
These fields define which phone number your text message will be sent from.
There are three available options:
Default - Available when no phone number groups exists on your account. Your message will send from either a shared pool phone number or your dedicated phone number if one is configured on your account.
Group - Select from an available phone number group.
Custom - Hardcode a phone number tag. This is not normally used. You can hardcode a phone number, this is primarily used during testing,
Add opt-out suffix?
Yes - An opt-out suffix is added to your message body. This is typically similar to "Msg&data rates may apply. Reply HELP for help, STOP to cancel."
No - Nothing is added to your message.
Message
This is the message you will send to your contact. This text can include:
Static text (e.g. Hello)
HubSpot deal tokens (e.g. Deal name, Company, etc.) These are added by clicking the Deal Token text above the field box.
Emojis 👍
Website Links
Media URL
The media field is used to send text messages with an image (MMS messages). The image can be linked in two different ways:
Note: MMS messaging is only supported in the United States and Canada today
Requirements: Supported image formats are: .jpg, .png, gif. The recommended image file size is no more than 500kb (up to 600kb for US/CA local phone numbers).