Question
Can I connect my existing Twilio account with Sakari?
Answer
Yes. Connecting your Twilio account to Sakari allows you to utilize all of the Sakari integrations, while managing your messaging with Twilio.
You will pay Twilio directly for all sent and received messages, and pay Sakari a software fee based on the volume of messages sent. These are called the "Twilio Pass-Through Plans". Please contact Support for information on the Twilio Pass-Through Plans and the available options.
How to Link your Twilio Account to Sakari
1. Login or create a Sakari account: https://hub.sakari.io/signup
2. Upgrade your account to the Starter plan, this will put your credit card on file in the Sakari payment system.
3. Log in to your Twilio account console (https://www.twilio.com/console)
4. Click on Account in the top right.
5. Select the API Keys & Tokens option.
6. Record the Account SID that is displayed.
7. Click on API Keys in the left menu navigation.
8. Click on the red "+" button
9. For the friendly name, enter "Sakari" and click on Create API Key
10. Record the API SID and Secret.
11. Log in to your Sakari account at https://hub.sakari.io
12. In the left hand navigation panel, navigate to Integrations > Twilio
13. Enter the information from Twilio.
Phone Number Formatting
Phone numbers should be entered in the E.164 format. If you have multiple phone numbers, separate they using commas.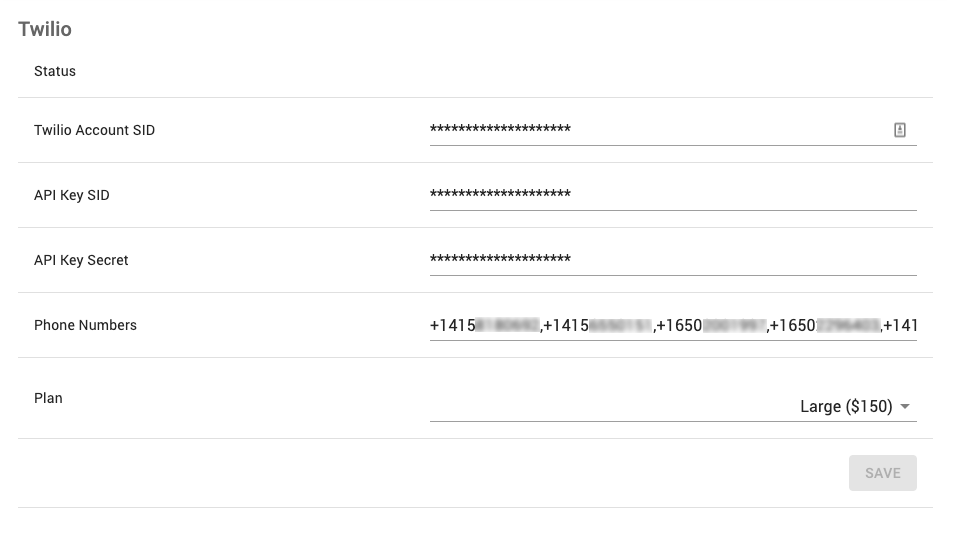 14. Click Save.
15. Wait a few minutes while your data processes. Your Twilio phone numbers should now be visible in your Account Settings under Phone Numbers in Sakari.
Not seeing your numbers?
If your Twilio numbers are not visible in Sakari, please check two things:
Make sure your messaging service is deleted. Your messaging service needs to be deleted prior to configuring the integration.
Make sure your Twilio Routing region on the phone number matches the Routing region on the API credentials you have created.