Sender Table
The Senders table allows you to view all numbers associated with your account and the main attributes of that sender:
Number - Phone Number
Type - Local US number, Toll-Free, Sender ID
Channels - SMS or Email.
Groups - Associated with this number
Status - Active, Pending, Verified
Compliance - Verification status for toll-free numbers / 10DLC status for local numbers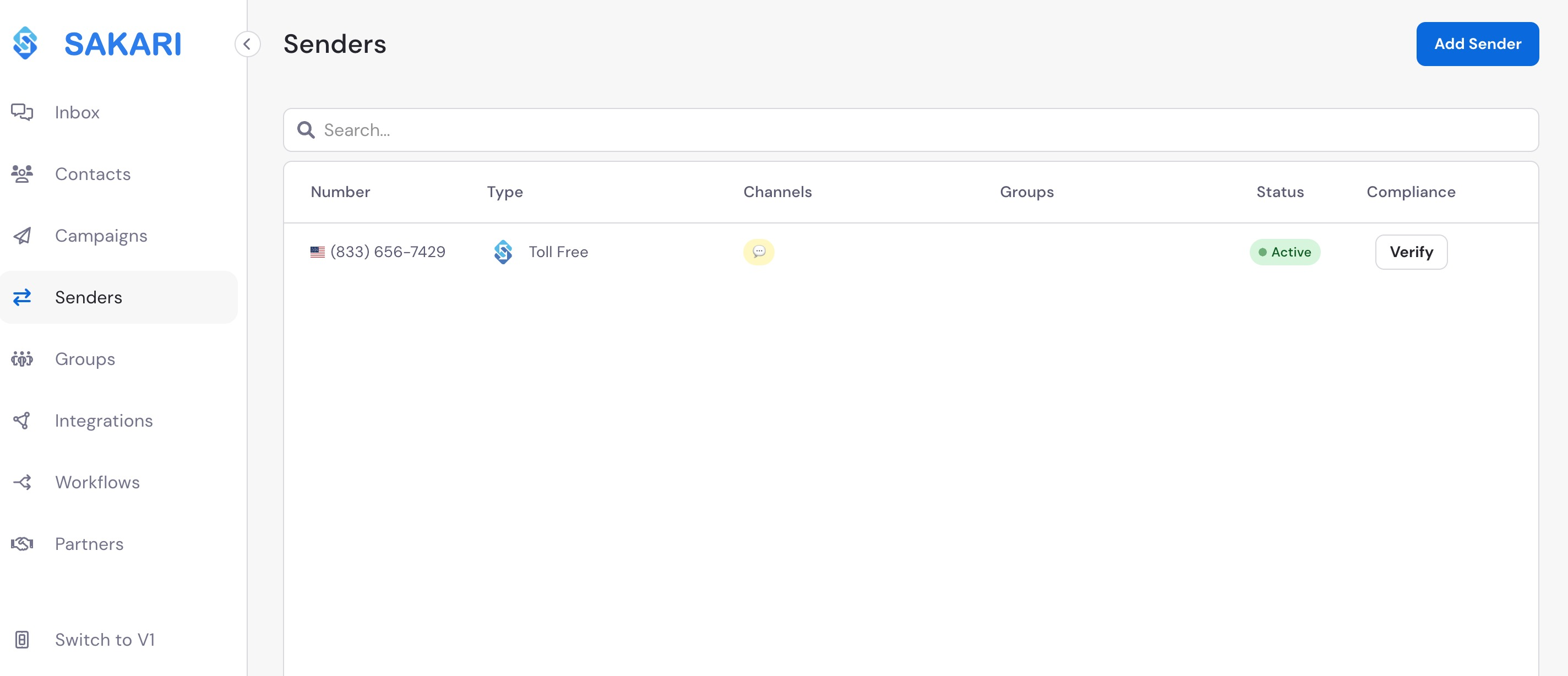 Sender Status
This field indicates the readiness of the number to send text messages via Sakari.
Sender Status Types
Active - the number is ready to use
Pending - we are awaiting confirmation from the carriers that the number has been updated and is ready for use.
Verified - we have verified your ownership of the number and you now need to sign the Letter of Authorization (LOA). Please check your email for the Letter of Authorization, if you cannot find it, please contact the Sakari support team.
Unverified - the number is added to Sakari and we need you to verify your ownership of the phone number. Please contact the Sakari support team to verify ownership.
Sender Settings
To see more details for a specific sender, you can click anywhere along the sender row.
SMS
SMS configuration for the selected phone number
Countries served - Toggle for which this sender is enabled. You can remove a country from a sender by clicking the specific country button to deselect and saving
Status - Active / Pending
Type - Toll-Free vs Local Number
Provider -

A dedicated number set up and purchased through Sakari will indicate that
Imported numbers from Aircall, Twilio, or other providers will be indicated appropriately

Groups - Group for which this sender is configured. A sender can belong to a maximum of 1 group.
Voice
Voice configuration for this number.
Incoming behavior
Route calls with call forwarding
Calls sent to voicemail
Voicemail Message
A Voicemail message can be configured in this space
Enable transcription will transcribe voicemail messages and send them via email if toggled on